In 2009 I was diagnosed with Chronic Fatigue Syndrome after being ill for many months with numerous colds and viruses.
As someone who has always been busy I found it very hard to just sit and relax, which is what the Dr ordered me to do.
Being constantly physically and mentally tired, but finding something to fight the boredom I decided to try my hand at knitting again.
I had knitted for both of my daughters before and after they were born, I had knitted baby clothes and blankets for all of my friends and their babies so I knew the basics.
My mind was set when I saw this cute pig *pattern in a magazine my other half bought home for me..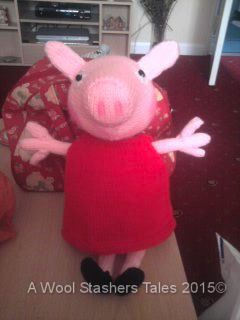 Both of my daughters were growing up so I had no idea who this cute character was until I told a friend about it. I made one and then requests were coming in for more. In total I made 4 of these.
They took me a while as my concentration wasn't at it's best. But I found even just doing a few rows every day made me feel better.
Of course receiving pictures of the children who I made these for made it even more worthwhile :)
And so began my return to knitting.....
*Unfortunately this pattern is no longer available, but there is an official pattern here on the Woman's Weekly website.